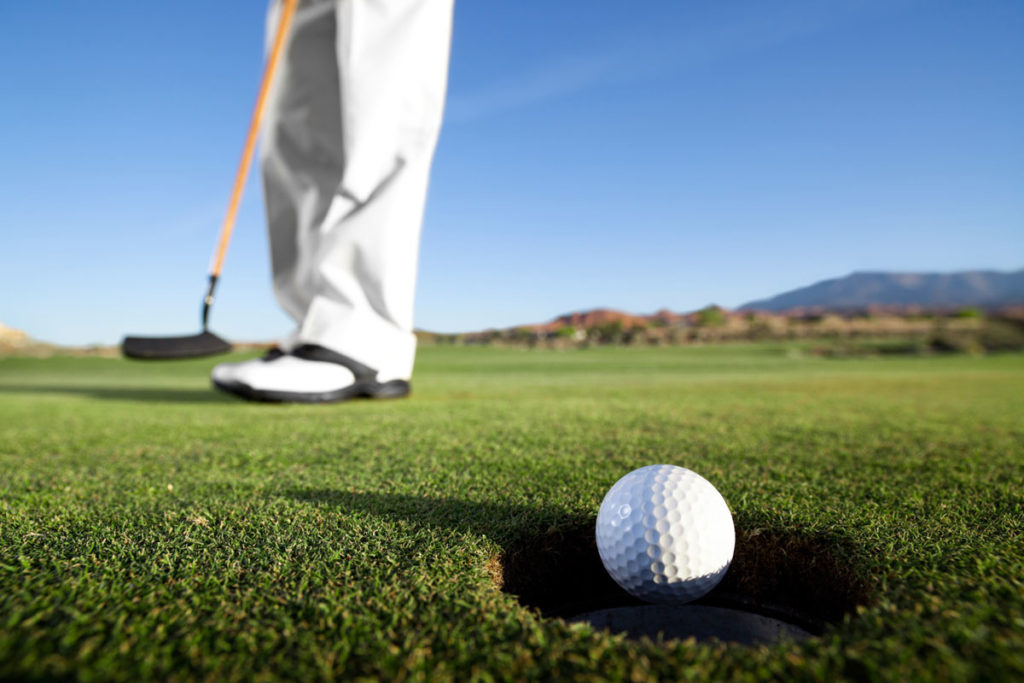 Bella Vista golf courses are part of the P.O.A. and are open to members and non-members. Contact information, tee times, score cards, and additional information can be found at bellavistapoa.com/thingstodo/golf/ or by calling (479) 855-5079.
---
Bella Vista Country Club – 18 Hole

98 Club House Dr, Bella Vista, AR 72715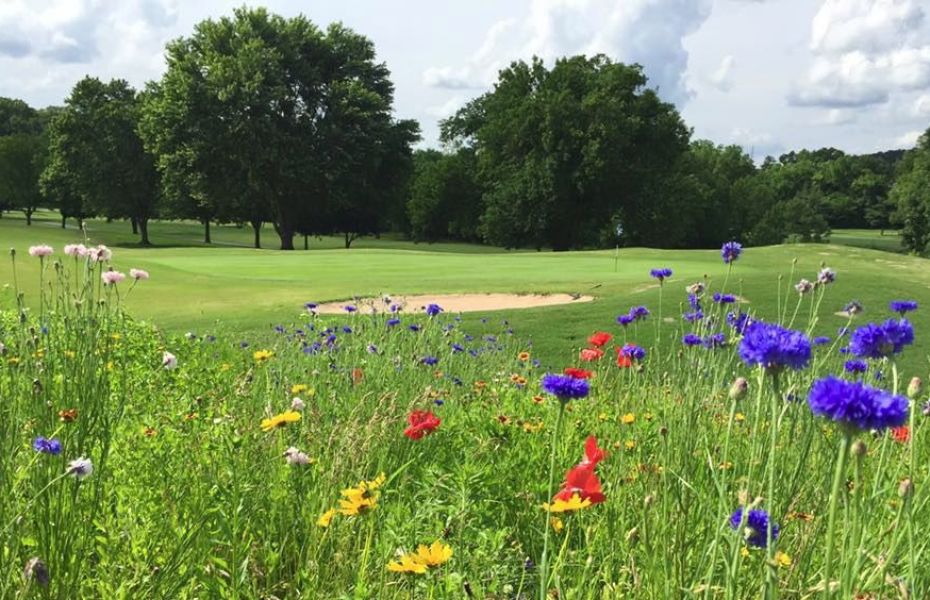 The Bella Vista Country Club Golf Course features long fairways flanked by mature trees, walkable terrain and several holes where Little Sugar Creek is in play. The course's five tees create a golf experience that is both challenging and fun, no matter your skill.

It is also home to the Cooper Community Charity Classic, a favorite stop on the APT Professional Tour.
The Tanyard Creek Practice Center is nearby. Warm up at the Practice Center before reporting to the golf shop.
---
Highlands Golf Course – 18 Hole

1 Pamona Dr, Bella Vista, AR 72715

The Highlands Golf Course is the longest and most challenging course in Bella Vista. Carved out of Bella Vista's rolling terrain, it is a test of shot control with a few surprises around the doglegs. Take extra balls. The course's five tees provide a challenge for all skill levels. Rental clubs are available.
Highlands includes a full service bar and Grab-and-Go food selections including soup, sandwiches and salads. A large community room is available for rent.
Highlands has a full practice facility including a Driving Range, Putting Green and Pitching and Chipping Green. Driving Range hours are typically from one-half hour before the day's first tee time to one-hour before dark. The Driving Range is closed until 9:00 a.m. on Monday's for maintenance.
Highlands Golf Course is the home course for the local High School Teams from Bentonville and Gravette.
---
Scotsdale Golf Course – 18 Hole

10 Scotsdale Ln, Bella Vista, AR 72715
The Scotsdale Golf Course is a course unlike any venue in Northwest Arkansas. The recently renovated 18-hole course plays like a traditional Scottish links course. New Champion Bermuda greens, strategically placed bunkers and roll off collection areas, create a spectacular course that requires unique and calculated shots from its players. Five tees are offered.

The design of the back nine offers a golf experience that embraces all of Scottish golf by using the natural hills and slopes of the terrain. The #18 5-par is the local's favorite hole in Bella Vista for its challenge and beauty.
After your game, stop by the Scotsdale Clubhouse and Pub. Our selection of beer, ales and Scotch combined with the 'Bella Vista Brat' is a wonderful way to wrap up the day.
---
Dogwood Golf Course – 18 Hole

1 E Euston Rd, Bella Vista, AR 72714
The Dogwood Golf Course, a links-style course, traverses Metfield's townhouses, Bella Vista's wooded land and Benton County's rural area. The layout features gentle terrain, by Bella Vista standards, with several long stretches from green to the next tee. The Dogwood Golf Course is located on the East Side of Highway 71 and is designed for all skill levels. The golf shop carries all the basics and has a snack bar where you can enjoy a beer and brat after the round.
---
Kingswood Golf Course – 18 Hole

4 Kingsdale Ln, Bella Vista, AR 72714
The Kingswood Golf Course is an 18-hole links-style facility and paired with Berksdale makes up the Kingsdale Golf Complex. Golfers of all skill levels enjoy the open fairways and mostly flat terrain of the Kingswood Course. Kingsdale is a favorite course for social golf including couples and family play.
Practice facilities include a Putting Green, Chipping Green and warm up area. The Tanyard Creek Driving Range is about 10 minutes away by vehicle. The Kingsdale Golf Shop offers an extensive array of merchandise including apparel, balls, range finders and other accessories. Our friendly staff will help order items you want. Papa Mikes, a quick service restaurant is located next to the Pro Shop.
---
Berksdale Golf Course – 9 Hole

4 Kingsdale Ln, Bella Vista, AR 72714
The Berskdale Golf Course is a nine-hole course adjacent to the Kingswood Course and is in process of being certified by Audubon International's Cooperative Sanctuary Program for Golf Courses. It is a full length, 36 par course with holes that combine water, trees, elevated greens and walkable terrain. This course is an excellent choice for a quick round after work, those starting in golf or a casual round. Rental clubs are available for adults and juniors.
---
Brittany Golf Course – 9 Hole

1 E Euston Rd, Bella Vista, AR 72714
Brittany Golf Course is an executive course that rounds out the 27-hole Metfield Golf Complex that includes Dogwood Hills Golf Course. This short, but fun layout features five par 3s and four par 4s and two tee choices. At 1,889 yards from the White Tees, the hilly terrain and fast Bermuda greens will test your short game. Brittany now also features a par 3 layout and an additional teeing area which will be a favorite for new golfers, anyone seeking a unique experience, or those with just time for 9.
---
Tanyard Creek Practice Center

10 Nature Trail Ln, Bella Vista, AR 72715
The Tanyard Creek Practice Center has twenty-eight uncovered and eight covered hard surface stations, which are heated, and ideal for cold weather practice. The center has grass tee surface, a putting green and a practice area with bunkers and chipping stations. We carry a wide selection of putters, bags and golf clubs.
Tanyard Creek is centrally located and is the place to get your game in shape. Schedule individual lessons with our PGA Teaching Professionals or sign up for our Get Golf Ready programs.
Trained PGA professionals will fit clubs for your unique swing using two indoor bays and the latest technology. We offer a wide array of equipment that is custom-fitted for individual golfers. In support of our programs to grow the game, we carry clubs that fit golfers of any age or skill.